You have just bought a mountain of coffee to last you through the summer. Whether that's beans or ground, you're going to need a reliable, quality storage container to ensure your coffee stays fresher for longer.
But, where to begin?
You've probably already started, got overwhelmed and given up. We've been there, you're probably thinking I'll look at it again tomorrow, but with Bushy Beard Coffee you don't have to. We've done the research for you, providing what we think are the best coffee bean storage containers on the market.
Best Place to Store Coffee
Despite what others have told you, trust us, do not store your coffee in the fridge or freezer. Here's why…
The biggest problem with storing coffee within the fridge or freezer is moisture.
Moisture impacts the flavour of your coffee, it can turn your coffee quickly, removing that sought after rich taste. Moreover, the moisture can be made worse by the opening and closing of both appliances throughout the day. This causes a fluctuation in temperature which results in an increase in condensation which ultimately leads to a build-up of even more moisture, causing a shift in coffee flavour and aroma. Nobody wants their coffee tasting like cardboard, certainly not a pleasant taste to wake up to every morning.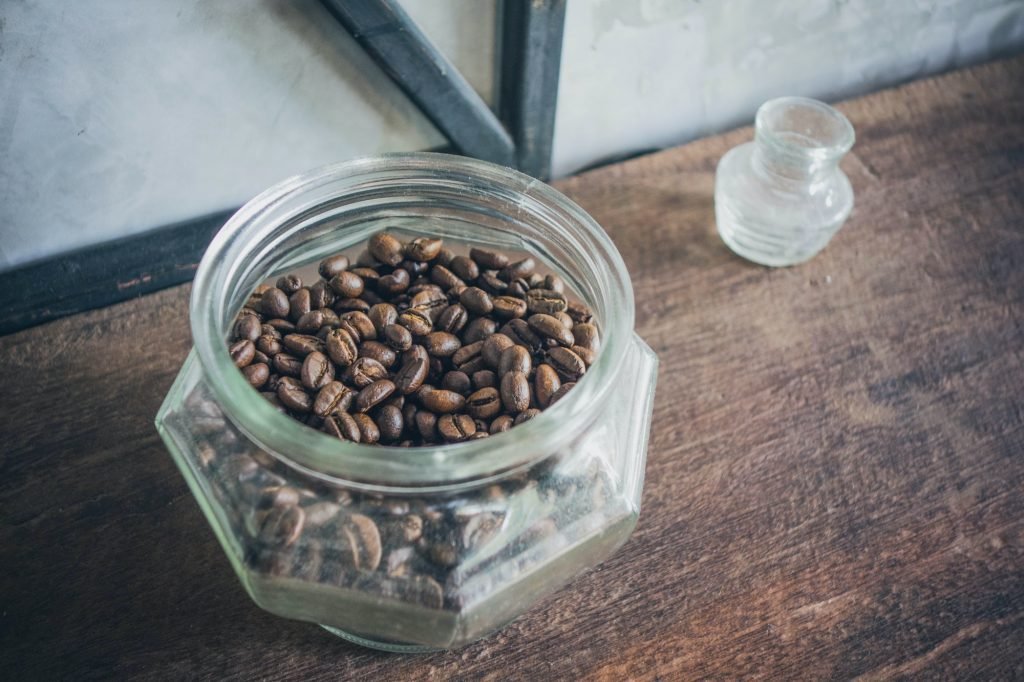 However, saying that, it is perfectly fine to store your whole beans and whole beans only in the freezer for a maximum of one month. As long as you're not using these for that month. We then advise that once these have been removed from your freezer you place them in your container and, in the cupboard, to thaw overnight. The next day your beans should then be ground, brewed, and drunk within two weeks, this will ensure you still get maximum flavour and nutrition from them. After the two weeks, they won't taste as good.
The best place to store your coffee is in the kitchen cupboard. We know, you might have thought we'd have this amazing storage place, but no, quite simply, the best place is in a cupboard. A cupboard provides a safe, cool place for your coffee, a place where light can't creep through and moisture is kept to a minimum.
This brings us to our next section, coffee storage containers. After all, you can't put coffee in the cupboard without a quality container to store it in. Read on to find out more.
Why Use Quality Coffee Storage Containers?
We've discussed the best place to store your coffee, so now we're going to discuss what you should be thinking about storing your coffee in. The container you're using is just as important as the place you're storing your coffee. It's important to keep your coffee in an airtight container, we spoke about moisture ruining your coffee; unfortunately, oxygen has the same effect. Keep your coffee sealed at all times, unless you're using it of course. A one-way valve airtight container is preferable as this stops oxygen from getting in whilst enabling CO2 to escape.
You must also think about the material of your container. To achieve optimum results, purchase an opaque glass or non-reflective metal such as stainless steel. It is not to say you can't use clear glass or plastic containers, coffee is beautiful after all and deserves to be seen, just keep these in a dark area to minimise the amount of light that could affect your coffee flavour.
The key point to take away here is if you want to get the best out of your coffee, find an airtight container that keeps oxygen and moisture out. The purpose of such containers is to prolong the flavour of your coffee ensuring each coffee is fresh and flavoursome, exactly what you need on a daily basis.
Coffee, Overtime
We already know that it's important to store coffee in a quality storage container within your kitchen cupboard or utility room. This we've already established, but why? The short answer is to preserve your coffee for as long as possible to ensure its rich, flavoursome taste doesn't spoil.
Coffee doesn't last long, in fact, it loses its freshness straight away after the roasting process. The best time is to drink coffee a few days after it has been roasted. This is when its flavour is at its very best. There is a difference between bean and ground as you might suspect. Ground Coffee is at its best in terms of flavour within the first two weeks after roasting. Beans last longer, up to one month or even more if you use the very best coffee bean storage systems, such as those we have outlined below. Our advice to you would be to purchase newly roasted ground coffee in smaller quantities, quantities you know you'll use within two weeks. If you're one for stocking up, as long as your coffee is stored in a quality, tightly sealed storage container within a colder area where light doesn't get through, your coffee will last longer than those two weeks. Buy two containers (bulk buyers only), one big and one small. Use the smaller one to store the coffee you're using on a daily basis and leave the larger one to store the larger amounts. This will ensure you expose the larger amount of coffee to as little air as possible.
The Best Coffee Bean Storage Systems Available Right Now
This is our number one coffee storage container for a reason, it's great value for money and it keeps your coffee fresh. What more could you ask for? Let us explain in a bit more detail. The Coffee Gator is a premium stainless-steel coffee container with a zero-BPA valve that purposefully releases the CO2 that excretes from the coffee but intelligently keeps oxygen out to ensure your coffee stays fresh for up to five months (let's face it, no one is going to finish their coffee in that length of time) and remains flavoursome. Its capacity is a great feature too. For ground coffee, it holds up to 900ml and for whole bean storage, it's 315g, perfect for those of you who are bulk buyers. Better still, and this is our favourite bit, it has a freshness date tracker. Here you can set the month and day you placed your coffee in the container, ensuring you never lose track of your coffee storage ever again. It also comes with a very handy cup scoop that holds two tablespoons of coffee, meaning you can accurately measure out your coffee depending on how much you're brewing.
Coffee Gator Stainless Steel Coffee Grounds and Beans Container Canister with Date-Tracker, CO2-Release Valve and Measuring Scoop, Large, Gray
Fresher than fresh. You pay for prime quality ground and whole beans, so it makes sense to take care of them. This premium stainless steel container looks the bees knees and loves your tea and coffee like a Kardashian loves a selfie

Protection from flavor-destroyers. Coffee naturally emits harmful co2 which must be vented away. Our zero-BPA canisters have innovative freshness valves to release co2 but lock out oxygen. Airtight, sealed containers stop this and wreck coffee

Track freshness for a dream brew for you and your guests. Log purchase or expiry date with the calendar date wheel, reduce waste and stop trashing precious coffee.

Drink better coffee. Unlike the competition, we never compromise on quality, service or your personal happiness. Our military-grade vault is no different in delivering more smiles per cup. The search for coffee that makes you smile ends right

We're only happy when you are. Thousands of satisfied customers show that. Plus, our 100% satisfaction promise means you can choose this coffee storage solution with confidence. This time tomorrow you could be enjoying the experience of a lifetime
Prices pulled from the Amazon Product Advertising API on:
Product prices and availability are accurate as of the date/time indicated and are subject to change. Any price and availability information displayed on [relevant Amazon Site(s), as applicable] at the time of purchase will apply to the purchase of this product.
Airscape Coffee and Food Storage Container
The Airscape, it's sole purpose on this planet is to put an end to stale coffee. Its innovative and patented plunger lid is designed to lock out all air and humidity. Like the Coffee Gator, it also has a valve that ensures CO2 can escape whilst oxygen stays out, again protecting the flavour and freshness of your coffee. This container is simple yet effective, allowing airless coffee (or food) storage. It has a very useful clear lid which allows you to either see what's inside (if using for food storage now and again) or to see how much coffee you have left which is of course very important, nothing worse than opening your coffee container and realising there is none left. The Airscape is made from 18/8 stainless steel, is BPA-free and has a sleek enamel paint finish that comes in a range of colours catering to all your style needs. It is a perfect, compact size ensuring it'll fit nicely into one of your kitchen cupboards or in the utility room. It holds about 250 grams of whole coffee beans.
Airscape Stainless Steel Coffee Canister | Food Storage Container | Patented Airtight Lid | Push Out Excess Air Preserve Food Freshness (Small, Obsidian)
Innovative & Patented Design - Original Airscape coffee & food storage canister with patented plunger lid removes and locks out air and humidity. Patented two-way valve pushes out excess air to preserve & protect freshness & flavor.
Sound of Fresh - Airscape lid removes all air in the canister creating airless food storage; extends the life of coffee, tea, flour, sugar, cereal, cookies, seeds, herbs, nuts, pet food or any perishable goods. The "swoosh" sound lets you know it's working
Coffee Connoisseur - Proper storage to preserve the integrity and quality of the whole coffee bean, extending the coffees' body & flavor profile for an exquisitely crafted cup of artisan brew. Resists staining & odor transfer
Quality Counts - Airscape Coffee & Food Storage Canister made from 18/8 restaurant-grade stainless steel, BPA-Free components with an enamel paint finish. Multiple colors available to add a pop of color to your kitchen. Hand-wash only
Sturdy & Stackable - A perfect size for your kitchen counter or easy to stack for compact storage in the pantry. Medium holds approx. 1 lb (500 g) of whole bean coffee [dimensions 5"w x 7"h]; Small holds approx. 1/2 lb (250 g) of whole bean coffee [dimensions 5"w x 4"h]
Hokeki Stainless Steel Container
The Hokeki is made from rust-resistant stainless steel, it is an airtight vacuum sealed container designed to keep your coffee fresher for longer. It has a quality flip-top lid and all plastic used in the making of it is BPA-free. Its built-in air breather valve (also known as the one-way CO2 valve) promotes the freshness of your coffee by keeping all air out, preventing any contamination that could spoil your coffee. It comes with a handy stainless steel coffee scoop with a silicone handle which attaches to the side of the container. Maybe, this will minimise the chance of losing or misplacing it and that's a big maybe. Like the Coffee Gator container, this also has a date tracker. The tracker is located on top of the container, set either the expiry date or the date you placed the coffee inside to track freshness more easily.
Table could not be displayed.
Coffee Prokeeper
Holding a whopping 1.5-quart, the Coffee Prokeeper is large enough to host at least a months-worth of coffee, depending on how much you drink daily. Made from plastic, this container features an airtight silicone seal with an easy to open and close top latch that ensures zero air will affect your coffees goodness. The plastic is tinted with UV protection so if you forget to put the container in the cupboard rest assured it won't be affected by any light that shines through preserving that rich flavour we all love from coffee. This container comes with a scoop for your coffee brewing, so you don't have to worry about measurements, although an extra scoop first thing in the morning is deserved, kick start your day right. The scoop snaps into place underneath the lid, you won't have to dig through your mountain of coffee to try and find it.
Sale
Progressive International PKS-600 1.5-Quart Plastic Coffee ProKeeper Storage Container with Scoop, Tinted
KEEPS COFFEE FRESH: Countertop coffee container that's ideal for storing and preserving freshness for a long time
LARGE CAPACITY: Can hold up to 1.5 quarts of coffee grounds or coffee beans
SILICONE SEAL: Designed with a silicone seal for air-tight storage and is made from UV-blocking plastic that helps preserve the coffee's flavor
AIRTIGHT SEAL: Easy-catch latch holds the lid tight, creating an airtight seal
INCLUDES A SCOOP: Comes with a 1-tablespoon scoop that conveniently snaps to the container
OXO Good Grips POP Container
If you buy in bulk, this one is for you. Holding 1.7-quart, it has the biggest capacity in our list of coffee storage containers. Although not specifically designed for coffee, we thought this one from OXO deserved a shout out. Like the rest of the containers, it also features an airtight seal. Its slim, space-efficient design makes it our top pick for convenience, slotting into corners in the cupboard you thought couldn't host anything. Combine more than one POP container and stack them up, one for ground, one for whole beans maybe, it is totally up to you. It's BPA free and can be washed in the dishwasher, that's one less dish you have to worry about hand washing, bonus! The great thing about this container is that accessories can be added. Its lid allows for the addition of a coffee scoop for example or a date dial or a leveller which are all useful when it comes to coffee storage and usage. The button on the top is there to work the airtight seal, this double ups as a lid handle. Now you know why we decided to add this one into the mix, it's a great container for your coffee as long as it's kept in your cupboard of course as the plastic is completely transparent and as we know sunlight can spoil your coffee.
OXO Good Grips POP Container – Airtight 1.7 Qt for Coffee and More Food Storage, Rectangle, Clear
OXO Good Grips POP Containers' airtight, space-efficient design keeps dry foods fresh and your cupboards organized
New shapes, sizes and BPA free, dishwasher-safe construction stack perfectly with all POP Containers and can be customized to fit any space
Convenient fill line makes it easy to store staples like cereal, flour, sugar, pasta, rice, coffee, nuts and snacks
Brand-new line of solution-based accessories easily attach to the underside of POP Container lids. Accessories sold separately
Push the button to engage the airtight seal. The button doubles as a handle for the lid. For best results, always use the button to open and close. Do not carry POP Containers by the lid
Our Verdict
Its plain to see our favourite is the container from Coffee Gator with the Airscape not too far behind. So, why did the Coffee Gator take it? Well in our opinion it's the perfect size storing just the right amount of coffee needed to be drunk within the time period, in our case a week! The scoop is, of course, a handy tool which attaches neatly to the side without making it look bulky and messy. We found that it did exactly what it said it would and kept our coffee fresh and flavoursome for the time stated. The date tracker is an excellent addition especially because most of us here at Bushy Beard Coffee are so forgetful. Of course, this is only a recommendation, you may prefer one of the other ones we've listed, check them out see which would be best for you.
Hopefully this guide has convinced you which is the best coffee bean storage system right now but, of course, we'd love to hear your thoughts so, please feel free to get in touch. Happy searching!