You are in the mood for a warm cup of coffee, so you grab your favorite mug, fill it with filtered water, and pour in your favorite ground coffee. The smell fills the room as you let it brew to perfection before adding milk or sugar to your liking. There is nothing better than that first sip of morning joe!
But what kind of beans should you use? What about if you're not using a French press?
Well, don't stress because, today, this article will talk about different types of beans, their flavor profiles, caffeine levels, and how they pair with foods so that you can make an informed decision when buying coffee next time!
What is a French Press?
Let's discuss the basics first. A French press is a device used to brew coffee by letting the grounds steep in hot water for several minutes before pressing down on them with a plunger, straining out all of those delicious little bits. It can be used both at home and at work, giving you instant access to your favorite caffeine fix!
The French Press method allows much more of the coffee's natural oils and aromatic compounds to come through, creating a more flavorful cup of coffee.
Caffeine Levels in Coffee Beans (0-100):
The first thing you will want to consider is the level of caffeine in your coffee, especially if this is a health concern for you.
We all know that drinking too much coffee can leave us feeling jittery and anxious, but it can also lead to health problems like insomnia and even heart conditions.
Caffeine in moderation is perfectly healthy. However, for some people, this dose may be too low or too high, leaving them feeling restless during the day (or night).
Coffee Beans with Lowest caffeine levels:
The best coffee beans that have the lowest caffeine levels are the ones that have been decaffeinated. This process can either be done through chemical means (the most common), steaming, or Swiss water processing.
These beans will contain anywhere from 0-15 mg of caffeine per cup, depending on how long they were treated and whether or not it was a high-quality coffee, to begin with!
Mommee Coffee Quarter Caf Low Acid Whole Organic Coffee Beans – 100% Arabica Organic 1/4 Caff Coffee Beans with Smooth Caramel Flavor – Natural Process – Medium Roast – 11 oz
Stay in control of what you put in your body without giving up your cherished morning cup! Quarter Caf Whole Bean Coffee is naturally decaffeinated, which mans you get full flavor without the guilt! Mommee Coffee uses 100% Organic Arabica beans in its coffee, delivering a smooth, creamy flavor with butterscotch and toffee notes. The sweet buttered caramel aroma will make your mouth water. The sweet, long aftertaste will extend your enjoyment of each sip. Great for both hot and cold brewing!

Less Chlorogenic Acid for a Better Cup - Chlorogenic Acid is the culprit behind upset stomach, acid reflux, hearburn, GERD, and bitterness in coffee. Contrary to popular belief, pH level has little to do with upper GI problems associated with drinking coffee. Mommee Coffee uses proprietary convection roasters that eliminate harmful levels of Chlorogenic Acid. This produces coffee that is 100 times lower in chlorogenic acid, and gives you a 5-fold increase in benefits compared to popular brands.

Just One Delicious Ingredient - Mommee Coffee contains only 100% Organic non-GMO coffee beans. No added sugars or preservatives and naturally Gluten Free. The decaffeination process uses only water, instead of the standard chemical method employed by competitors. So, all youre putting into your body is exactly what you want and nothing more--delicious, tasty coffee! For pregnant women and other sensitive stomachs, you can indulge in your morning cup without burning regret the rest of the day.

Only 25mg Caffeine Per 12oz Cup - The Quarter Caff beans gives you exactly that--1/4th the amount of caffeine youd get in a cup of Mommee Coffees full strength coffee. Perfect for those days where you need a bit of pick me up to get through the day, but arent quite dragging. The American Congress of OBGYNs currently says that up to 200 mg of caffeine (1 - 2 cups of fully caffeinated coffee, on average) a day does not have a major impact on likelihood of miscarriage or preterm birth.

Resealable Pouch - Mommee Coffee comes packaged in 11 oz quantities. A heavy duty oxygen barrier resealable pouch with a valve keeps your new favorite grinds fresh from the first cup to the last. To maintain quality, store your coffee in a cool, dark place away from the stove or windows. Avoid the refrigerator or freezer, as the air inside the coffee bag may condensate and create moisture. Pre-ground coffee is a medium grind, making it perfect for drip machines and single serving reusable cu
Prices pulled from the Amazon Product Advertising API on:
Product prices and availability are accurate as of the date/time indicated and are subject to change. Any price and availability information displayed on [relevant Amazon Site(s), as applicable] at the time of purchase will apply to the purchase of this product.
Coffee Beans with Highest caffeine levels:
If you are looking for the highest caffeine levels in your coffee beans, look no further than Kenyan AA. This bean has an average of 18-20 mg per cup! It is also packed full of delicious fruity notes that make it a great choice if you like lighter roasts or want to add a little cream to your morning joe.
Another great choice for high caffeine levels is the Ethiopian bean, which has about 20 mg per cup! It has been known to have citrusy notes when it's brewed and pairs well with foods that are also fruity or light in flavor like pastries or salads.
DEATH WISH Whole Bean Coffee Dark Roast – The World's Strongest Coffee Bean – USA Organic Coffee Beans Bundle/Bulk – Fair Trade Arabica & Robusta Coffee – Real Dark Roast Coffee Beans (16 oz)
EXTRA KICK OF CAFFEINE: Our whole roasted coffee beans will utterly transform your basic cup of joe into a delicious, bold, and intense beverage that will revolutionize your morning. Super fuel for life in the fast lane, our dark coffee beans will ignite your senses and supply you with an abundance of energy your body needs to perform at its peak condition all day long.

PREMIUM QUALITY BREW: This aint your normal cup of coffee - our whole bean roasted coffee is hands down the best this world has to offer. With just one sip of our dark roast whole bean coffee, youll be saying goodbye to store-bought coffee forever. Enjoy the perfect blend of high quality energy and artisanal flavor with each and every sip of our roasted coffee beans.

EMBRACE THE BOLD: Immerse yourself in a smooth, subtle cherry and chocolate flavor profile that is never bitter. Weve thoughtfully and carefully selected premium Arabica and Robusta whole coffee beans from around the world to deliver you a coffee beans dark roast beverage with a bold taste you'll find irresistible and instantly fall in love with.

FAIR TRADE AND ORGANIC: Every single 80 oz. Death Wish Coffee whole bean bag is filled to the top with organic whole coffee beans that will create coffee so good that it will blow your mind. Fair Trade and USDA certified organic, our coffee whole beans give you a natural caffeine boost that you can be feel good to support.

TRY IT RISK-FREE: The Death Wish Promise is that our organic whole bean coffee comes highly rated by thousands of satisfied customers who simply cant get enough but well let you be the judge. If you dont fall in love with our coffee, well refund your order- no questions asked. Were confident ours will be the best coffee youll ever t
Prices pulled from the Amazon Product Advertising API on:
Product prices and availability are accurate as of the date/time indicated and are subject to change. Any price and availability information displayed on [relevant Amazon Site(s), as applicable] at the time of purchase will apply to the purchase of this product.
Which Coffee Beans Pair Best with Foods
Now that you know how much caffeine is in each type of bean, it's time to pick your favorite flavor. Some beans go better with certain foods than others and pairing the right two together can make an already delicious cup of coffee even more so! We'll be going over some common flavors found in different types of beans as well as which foods go best with those flavors.
Coffee Beans Flavors:
When it comes to flavor, the world of coffee is divided into two basic categories – "cuppers" and "non-cuppers." Cuppers taste specific flavors like chocolate or fruit, while non-cuppers don't. Some people do not mind tasting these flavors, but others may find them unpleasant.
Coffee has a harmonious relationship with food, as the flavors can both complement or contrast each other depending on the pairing. Coffee beans that pair best with foods are those with unique and distinguished aromas and tastes. Some of these coffees can be found within some of the world's premier growing regions from Ethiopia to Colombia.
Coffee varieties that contain notes of chocolate, hazelnut, or dark fruit often pair best with chocolaty desserts or breakfast pastries.
Also, an espresso blend is an excellent compliment to hard cheeses like parmesan and cheddar as it adds an additional layer of richness.
Last but not least, light roasts are fantastic for enhancing acidic dishes like chicken piccata, adding complexity to sauces and marinades.
Coffee beans offer a delightful range of diversity when it comes to foods; exploring these nuances makes for an enriching culinary experience! To see whether you are a cupper or non-cupper, try an Ethiopian Yirgacheffe from Intelligentsia Coffee and ask yourself if it tastes like blueberries!
Some common coffee bean flavor notes include:
Blueberry
Chocolate
Fruit
Peach
Lemon
Coffee Beans that Pair Best with Foods:
So now you know which flavors are most common in different types of coffee beans, but how do they pair with different foods? To find out, we will be going over some popular food combinations and their taste profiles.
Coffee Beans and Breakfast Foods: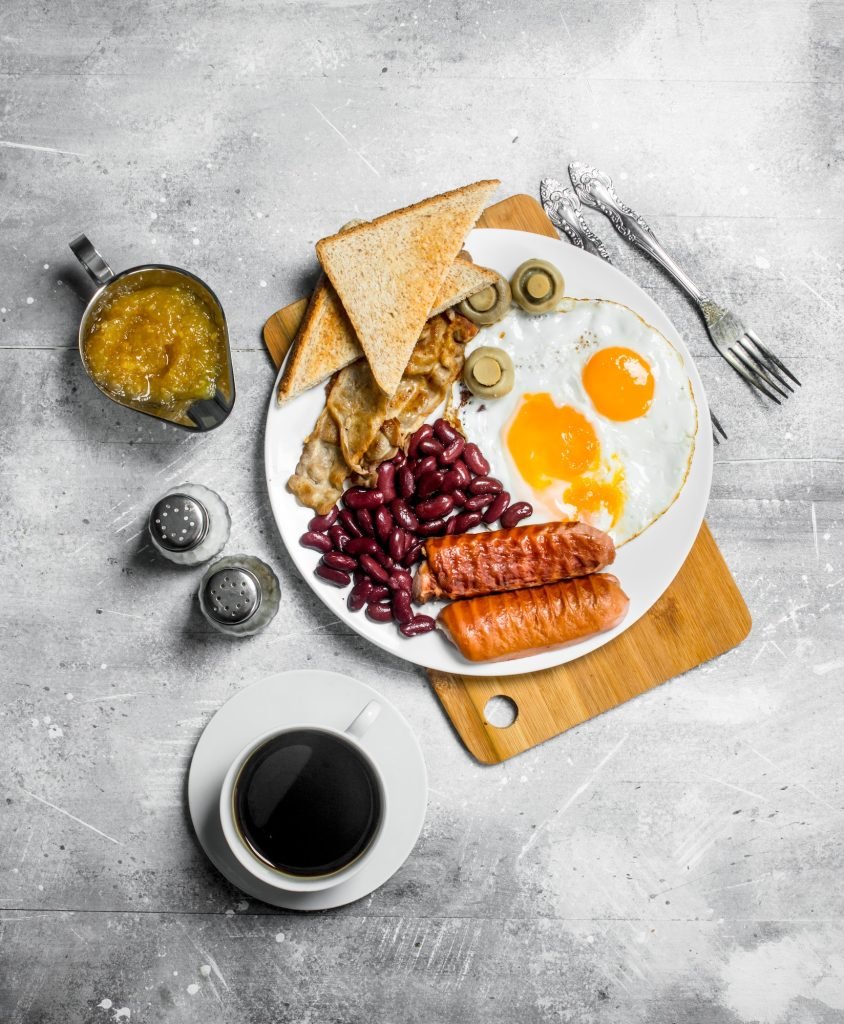 Coffee beans and breakfast foods are the perfect combos for starting off your morning with a delicious and energizing meal. Coffee beans provide the much-needed boost of energy to accompany breakfast, which is often a protein, carb, or fat-rich meal that is designed to provide nutrients and long-lasting sustenance throughout the day. The caffeine in coffee helps with digestion and makes you feel more awake and alert, which makes it easier to concentrate throughout the day. Coffee goes well with breakfast foods like oatmeal, eggs, toast, and yogurt, which offer complex carbohydrates, healthy fats (especially in egg yolks), fiber, and vitamins — all important components of any balanced diet. Whether you brew your morning cup of joe at home or order out at a local cafe, pairing coffee with breakfast is sure to give you the energy you need to power through your day while providing essential nutrients for optimal health.
Coffee Beans and Snacks:
Coffee beans and snacks are a classic combination! Coffee beans alone can be bitter and strong, but pairing them with the right snack creates a special gourmet experience.
Coffee beans have an intense aroma, flavor and acidity, so many people choose to find complementary snack tastes that balance out the intensity of their coffee.
For example, grinding up some dark chocolate chips or nuts for sprinkled toppings on top of your beverage can bring out subtle smoky notes in the bean without sacrificing its bold strength.
Another great option is sweet snacks, such as cakes or pastries, which will create a syrup-like moment with your coffee – it will still remain strong like most coffees do but it'll also carry over a sweeter taste that makes every sip feel like a treat.
To really maximize the pairings with your bean of choice though, opt for foods specifically curated to enhance each of its individual flavors!
Thanks to recent advances in brewing technology, Coffee Beans and Snacks are an exciting way to make your drinks more interesting than ever before.
Coffee Beans and Lunch Foods:
Coffee beans are a long-standing favorite in the world of lunch foods. Because they have a lot of caffeine, they are a great way to get energy and are great for a quick pick-me-up during lunch and since lunch is often enjoyed in a hurry, what better way to brew your coffee than in a French Press?
Coffee beans are one of the most consumed beverages around the world and can provide additional health benefits depending on the type of bean you choose. Some types even have additional antioxidants that boost your energy levels without the need for added sugar or sweeteners.
When it comes to lunch, many people opt for lighter meal options such as salads or sandwiches, but coffee beans can be an easy and healthy addition to almost any routine.
Coffee is thought to boost metabolism which could help in losing weight when combined with a nutritious diet and exercise. Coffee can also help by giving us extra motivation whilst working during our lunch break, helping us focus our attention so that tasks take less time and we can feel productive at work.
Coffee, therefore, is a beneficial sidekick in all sorts of lunches and deserves its place alongside food today.
Coffee Beans and Dinner Foods:
Coffee beans and dinner foods – two staples of the modern diet that many of us cannot imagine going without. Coffee is one of the oldest drinks in the world. It was first made in Ethiopia in the 9th century, and quickly spread to other parts of Africa, Arabia, and Europe. Coffee beans contain many beneficial antioxidants and have become increasingly popular as we learn more about their potential health benefits.
Dinner foods, on the other hand, have evolved over time as cultures have adopted new cuisines and ingredients to add to their dishes. Many cultures around the world are known for particular types of food for dinners such as Italian Pasta dishes or Japanese Sushi platters. Both Coffee Beans and dinner Foods provide essential nutrients in our diets and can often be combined together to create a delicious combination that has savory flavor from Dinner Foods combined with an energizing Coffee Bean kick.
Best Coffee for French Press:
When it comes to French presses, there are no hard and fast rules about what type of coffee you can use.
Generally speaking, medium-to-coarse grinds work best because they allow the essential oils and aromas of the beans to be extracted properly. Fine grinds do not filter well and can seep through into the cup, resulting in a bitter-tasting cup of coffee.
It is also important to consider the roast when brewing with a French press; coffees that are light or medium roasted will not overpower each other by competing for flavor complexity. What's more, lighter roasted beans will provide flavors that are brighter, enabling them to stand up better against the press method's strong extraction process.
So, while any kind of coffee may be used in a French press, depending on your tastes and preferences there is definitely a preferred range.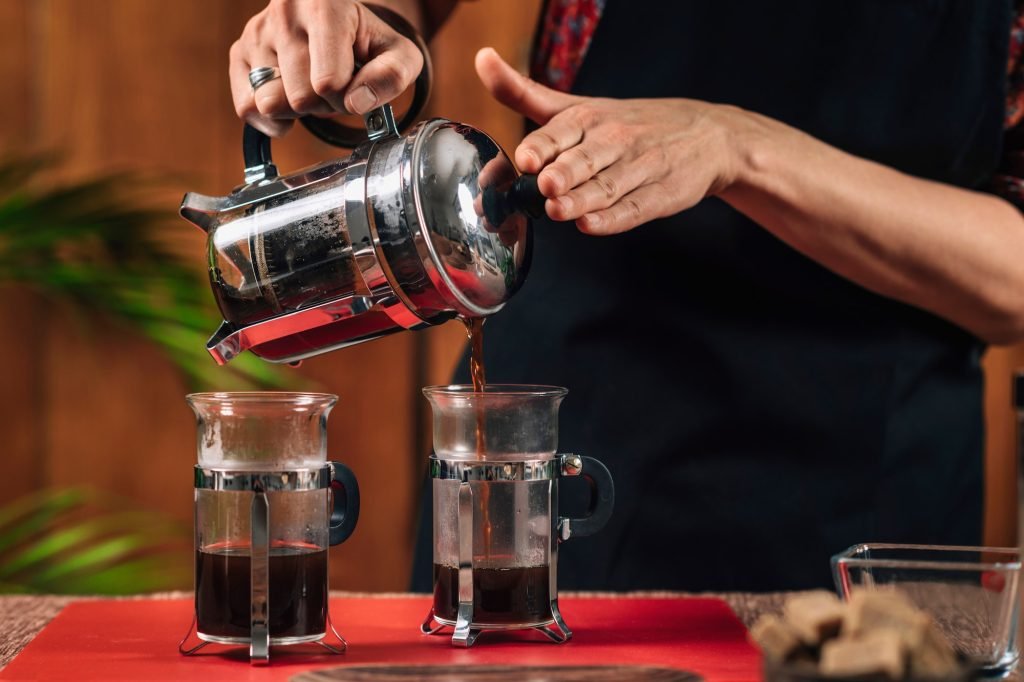 When selecting the best coffee for a French Press, I believe that it is important to think about the type and roast level of the beans you choose.
Dark roasted coffees tend to be more traditional in a French Press, as they offer higher concentrations of body, flavor, and acidity. If sweetness and complexity are what you're after in your cup of joe, then opting for a medium roasted bean can provide these attributes.
Generally speaking, those of us with stronger palates tend to prefer dark roasts whereas milder flavors can be obtained through lighter roasts.
To achieve great tasting results in your French Press try using freshly ground beans, as their greater surface area will ensure better extraction rates.
Furthermore, due to the coarse grind size used with a French Press avoid over-extraction by ensuring that all of the grounds are filtered from the brewed liquid before drinking.