Are you a coffee lover who drinks several coffee cups a day? Fed up with getting up once every hour to prepare a new brew? What if you could make a batch of hot coffee and store it in your coffee pot for longer without it going cold? Well, today we will be answering one of the most common questions surrounding thermal carafes, and that is, does a thermal carafe keep coffee hot? Let's find out.
With a thermal coffee carafe, you can enjoy a hot coffee anytime. The thermal carafe is a stainless steel, double-walled container which features a vacuum in between. This helps keep your coffee hot for longer and preserves the freshness and flavor of your brew, so you don't need to go through the coffee-making process multiple times a day.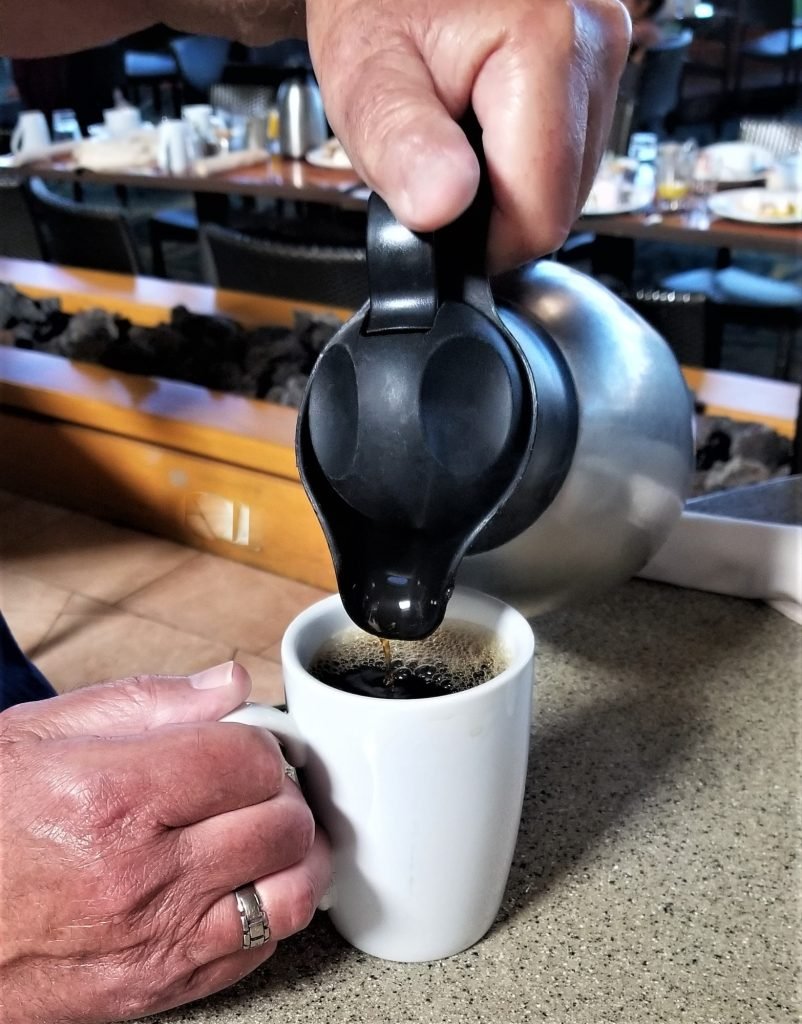 Some Great Deals On Thermal Carafes
The coffee carafe is an ideal solution for many coffee lovers to enjoy more cups of coffee without going back and forth to their coffee maker. This means you'll only need to get your coffee grinder and coffee machine out once. Grind your coffee beans, prepare your coffee using your preferred coffee maker, and brew a large batch. Then pour your coffee into the thermal carafe and you'll be enjoying hot, fresh coffee for hours to come.
Click the link to read more about keeping your coffee hot for longer.
What is a thermal carafe?
A carafe is a container that is used for serving drinks, typically wine. Most traditional carafes don't feature any handles or a lid.
A thermal carafe is a double-walled container that is used to hold coffee as well as brew coffee and is made from a stainless steel material. The good quality thermal carafe will keep your coffee hot for several hours.
What's more, if you enjoy a cold brew coffee, the thermal carafe will maintain the temperature of your drink, keeping it hot or cold depending on the coffee you are storing. The outside of your thermal carafe will remain at room temperature so it will not burn you when you use it.
So, in short, a thermal coffee carafe is a coffee lover's best friend.
Pre-heating your thermal carafe
A decent thermal carafe should keep your coffee hot for up to 12 hours, but if you want to keep it warmer for longer, you can preheat your thermal carafe by pouring some hot water into your carafe beforehand and emptying it out again to trap some heat inside. This will prevent your coffee from losing any heat when it touches the inside of the container. You can also preheat your mug in the same way.
Be cautious when you are pouring yourself a brew using the thermal carafe as the coffee will come out piping hot. You don't want to burn yourself on a mouthful of steaming hot coffee.
Thermal carafe vs glass carafe
If you are a coffee lover, then you should definitely consider getting a coffee carafe. Coffee carafe's come in two styles: a thermal carafe and a glass carafe. Both coffee carafe models have great features and can keep your coffee hot for longer. To help you decide on the best carafe for you check out the following list of pros and cons:
Pros and cons of the thermal carafe
If you are a coffee lover, having a thermal carafe can make a difference in how you take your coffee. Apart from keeping the contents inside warm, a thermal carafe provides many other benefits.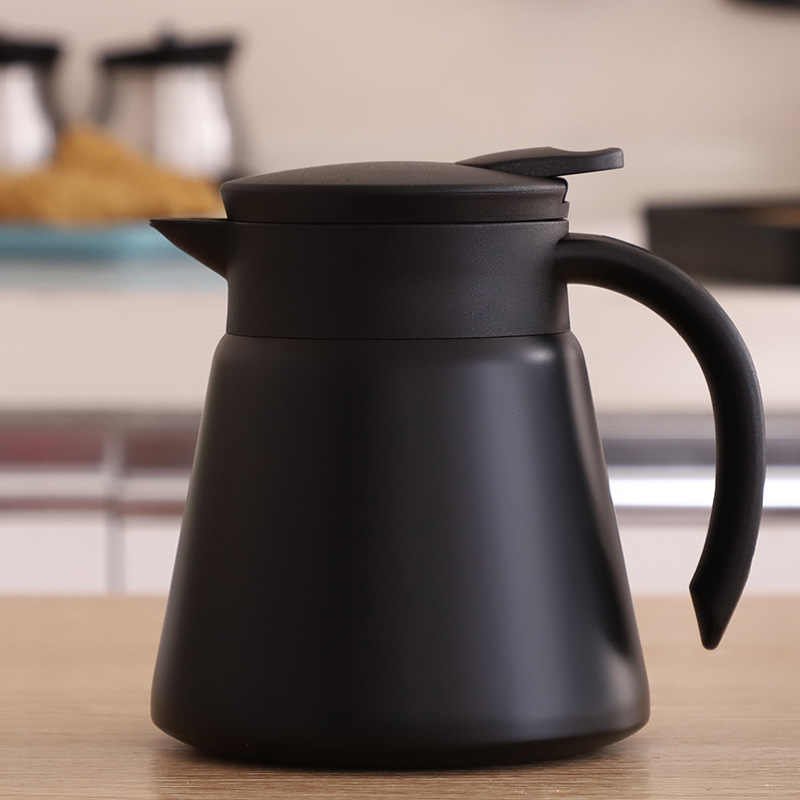 Let's take a look at some of the pros and cons:
1. Portable and light
Using a thermal carafe means you can take hot coffee with you on the go. The thermal carafe is more portable compared to a glass carafe, which may shatter if dropped and must be kept on a hot plate to keep the coffee hot. The thermal carafe is perfect for camping or picnic trips, hikes, or traveling throughout the day.
2. Insulated
The thermal carafe is designed to trap the heat of your brew inside the carafe container and keep it insulated, which means you don't need any external heat to keep your coffee hot. Other types of coffee holders usually go cold within an hour or two of pouring in the coffee.
The insulation also protects your hand from getting burnt as you hold the thermal carafe.
3. Large capacity
A normal-sized thermal coffee carafe has a capacity of 10 cups, much more than an average coffee carafe that can only hold 3 or 4 cups. With a thermal carafe, you will enjoy an endless supply of hot coffee for a long time. This will save you from getting up to make several cups of coffee per day. They are ideal to use when you are working because your coffee won't go cold if you get distracted and forget about your brew, and you won't need to keep getting up to make more.
4. Durability
Most thermal carafes are made using stainless steel, which is highly durable. Not only is it strong and practically unbreakable, but it's also safe and certified for use with drinks.
You can rest assured that your thermal carafe will be with you for many years.
Other benefits include:
Maintains the freshness of your drink
Delays oxidation which preserves the flavor
It maintains heat longer
5. Visually appealing
Glass carafes can be quite visually appealing as you are able to see the coffee inside. If you are a very visual person, you may prefer the aesthetic of the glass carafe more than the thermal coffee carafe. You are also able to see if you are running low on coffee and need to refire the coffee machine.
That being said, the thermal carafe comes in a range of sleek-looking designs and can be a lovely addition to your kitchen or living space.
6. Is The lid – open or closed?
A glass carafe has an open top which allows the coffee aroma to escape. While this is a nice smell to have wafting around, you are losing some of the flavorful aromas that would have been in your cup.
Most thermal carafes feature an opaque material and a closed lid. It is essential to keep the lid on a thermal carafe, otherwise, the heat will escape. It could be argued that the thermal carafe retains a lot of the coffee's delicious flavors as the aroma is also captured inside the coffee pot.
7. Recommended holding time
Drinking coffee is enjoyed best while the aroma and flavor are still strong. For the most delicious coffee flavor and freshness, the recommended holding time for coffee is approximately 20 minutes in a glass carafe and around 60 minutes in a thermal carafe.
8. Price
A typical thermal carafe is a bit more expensive compared to a standard glass coffee carafe. The thermal carafes are a bit more pricey because they have a more complex design that uses more expensive materials.
9. Strong material
Some coffee lovers prefer the thermal carafe over the glass carafe because, although the glass carafe uses strong glass that is difficult to break, many people worry that the glass could shatter. Because of the stainless steel construction, a thermal coffee carafe is less likely to break, so if you want something that is easily portable, the thermal carafe is a better model.
How To Clean a thermal carafe
There are a number of ways to clean the coffee grounds, oils, and bacteria that have built up in your thermal carafe. Thermal coffee carafes can be easily cleaned using the normal cleaning agents we have at home or by using natural home remedies.
To preserve your coffee carafe, you should always give it a rinse before use. This will help remove any residue from previous uses that may affect the taste of your coffee. It is especially important to rinse the carafe thoroughly if you are using it for a different type of coffee or if it has been a while since the last time you used it.
One easy way to clean your coffee carafe is simply by using washing-up liquid and a soft sponge to soak and clean the inside of the coffee pot. Make sure to get into all the corners and crevices, as this will help remove any stuck-on coffee grounds or stains. If you have a glass carafe, you're in luck as these are dishwasher-safe. You can also use a combination of hot water and vinegar to remove any stubborn stains.
After cleaning the inside of your carafe, it is important to leave soapy water inside the carafe to soak for a little while. This will help break down any bacteria that may be present and ensure that your carafe is fully sanitized. Be sure to rinse the carafe thoroughly with hot water after soaking to remove any soap residue.
It is also a good idea to clean the outside of your carafe regularly, as this will help it to look its best and prevent any stains from forming. A simple solution of water and mild detergent can be used to wipe down the exterior of the carafe. Be sure to dry the carafe thoroughly before using it again to prevent any water spots.
After cleaning your coffee carafe, it is important to rinse it thoroughly with clean water to get rid of all the soap. This will help remove any soap residue that may affect the taste of your coffee. Be sure to rinse the carafe thoroughly, paying special attention to the corners and crevices where soap may have accumulated.
If your carafe still smells of stale coffee after cleaning, then you may need to repeat the process again. You can try using a stronger cleaning solution, such as a combination of hot water and vinegar, or a specialized coffee pot cleaner. Be sure to follow the instructions on the cleaning product to ensure that you are using it safely and effectively.
Once you have cleaned and rinsed your coffee carafe, it is important to leave it on your draining board to dry. Do not use a towel to dry the inside of the carafe, as this can leave small fibers and debris inside the carafe that will be present in your coffee the next time you use it. Instead, allow the carafe to air dry on the draining board or place it upside down on a clean, dry dishcloth.
Home remedy to wash your coffee maker and carafe:
Fill the carafe with water and 1/3 of a cup of white vinegar.
Pour the vinegar and the water into the coffee maker and turn it on as if you are going to brew some coffee. The solution will drip into the carafe.
After all the water and vinegar has dripped into the carafe, allow it to soak for about 30 minutes.
Pour the solution and rinse the carafe a couple of times. Don't forget to rinse your coffee machine. Follow the same process but only use clean water. This is essential otherwise your coffee machine will produce vinegar-tasting coffee the next time you use it.
The alternative to using vinegar is to use baking soda. Find out more here: How to clean a coffee maker using baking soda
Glass carafes can be washed using a dishwasher to save you time and hassle cleaning. Thermal carafes on the other hand are not dishwasher safe and must be washed by hand.
It is easy to see your progress when cleaning the glass carafe because it is see-through, unlike the thermal carafe. It's harder to see if you have cleaned this coffee carafe properly so make sure you have adequate lighting.
How to choose a coffee carafe
The key to choosing the best coffee carafe is to know what you are looking for. It's important that you assess your own coffee drinking needs and find the product that best fits those needs. The following are some important tips that will help you select the right thermal carafe:
How fast do you drink your brew?
If you often find your coffee going cold before you've finished your coffee cup then a coffee carafe is essential for you. The thermal coffee carafe will keep your coffee hot for hours so you don't need to rush or worry about it going cold.
How long will it retain its heat?
The thermal coffee carafe will keep your coffee hot for up to 12 hours. Its recommended that you drink your coffee within an hour of filling your coffee carafe because this is when the coffee flavors are at their best. The thermal carafe will retain the coffee flavor for longer.
Its recommended that you drink your coffee within 20 minutes if you are using a glass carafe because the strength of the coffee's original flavor will be at its best for only 20 minutes. This could be because the glass carafe has no lid to keep in the coffee aroma.
Which material is best?
Think about the kind of material you prefer. Are you comfortable using a glass carafe or would you rather opt for the highly durable thermal carafe made from stainless steel?
The type of material you prefer may have less to do with durability and more to do with the aesthetics of the coffee carafe. Which do you think looks better?
Frequently Asked Questions
Question: How do I clean my thermal coffee carafe?
Warning! Most thermal coffee carafes are not dishwasher safe. You must clean your thermal carafe by hand using washing up liquid, or as part of washing your coffee maker, with baking soda or vinegar. Check out our advice on washing your thermal coffee carafe above.
Question: How many times am I supposed to clean my carafe?
This will depend on how often you use your coffee carafe. We recommend that you clean your carafe after every use to ensure your coffee tastes its best. The coffee carafe is so easy to clean, it's like cleaning an ordinary coffee pot. As the thermal carafe is an airtight container, you don't want to leave anything in it for longer than 12 hours and you should really try to clean it after every use so that it doesn't smell, grow bacteria, and impact the flavor of your brew.
Question: Do I clean the coffee maker with the thermal carafe?
You should clean your coffee carafe and coffee maker at the same time. Once you put water into a carafe after applying soap, leave it to rest for some time and use this time to clean the coffee maker. However, you should never dip the coffee maker in the water fully. – check out How to clean a coffee maker using baking soda, for more advice.
Final Words
With a thermal coffee carafe, you get good value for money. You can keep your coffee hot for longer and take it with you on the go. It is the perfect appliance for any coffee lover.