Traveling, whether for business or leisure, can be exhausting. But there's one thing you can rely on to keep your day going and that is coffee! If you're traveling, it's important to make sure your coffee stays fresh and tastes good – this article will show you a couple of different travel mugs to consider in your quest to find the best coffee travel mug you can buy!
What is a Travel Coffee Mug?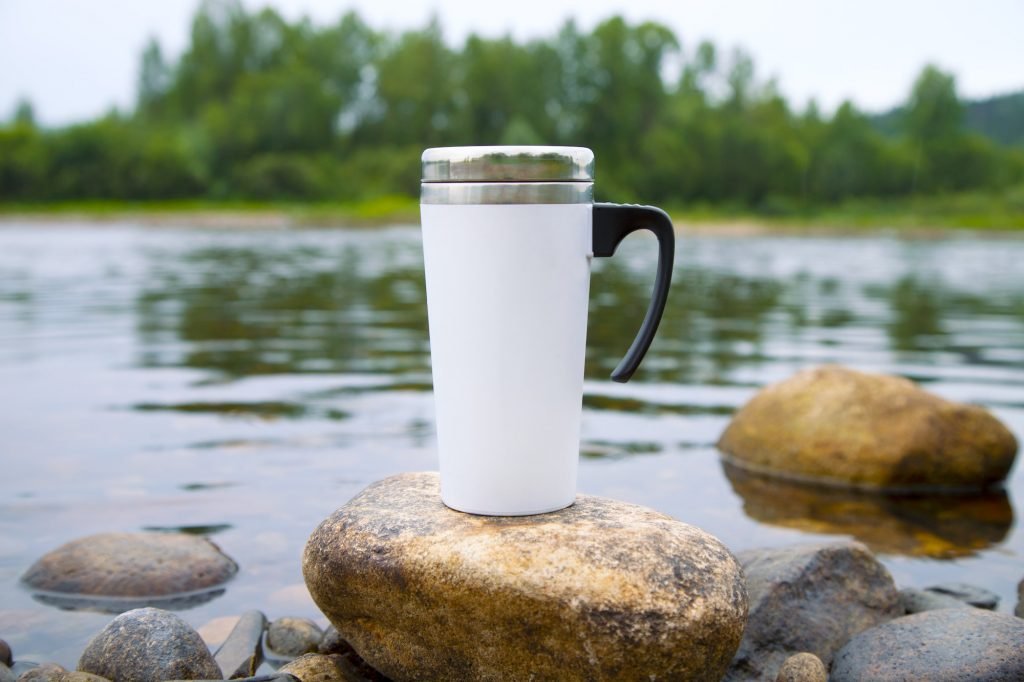 A travel coffee mug is a mug that is specifically designed for people who travel with their coffee. These mugs are usually insulated and have a lid to prevent spillage. They are also usually made of durable materials so that they can withstand being thrown around in a bag or car.
There are several reasons why you should consider getting a travel coffee mug.
First, if you are someone who travels often, having a travel mug will save you money in the long run. You will no longer have to buy coffee at airports or gas stations.
Second, travel mugs keep your coffee hot for hours, which is perfect for long days or early mornings.
Third, they are much more environmentally friendly than disposable cups.
Finally, they make a great gift for the coffee lover in your life. How to Use a Travel Coffee Mug Using a travel coffee mug is easy – just fill it up with your favorite coffee and hit the road! If you are going to be driving, make sure to put the lid on tight to prevent any spillage.
Why Should I Get One?
There are plenty of reasons to get a travel coffee mug. They keep your coffee hot (or cold), they're spill-proof, and they're great for people who are always on the go.
Plus, they're reusable so you can feel good about not using disposable cups.
Here are a few of our favorite travel mugs:
1. The Contigo Autoseal West Loop Stainless Steel Travel Mug is our top pick. It's leak- and spill-proof, has a comfortable carrying handle, and keeps drinks hot for up to 7 hours or cold for up to 18 hours.
2. If you're looking for a budget-friendly option, the Thermos 16oz Stainless Steel Travel Mug is a great choice. It doesn't have all the bells and whistles of our top pick, but it gets the job done and is much more affordable.
3. For something a little different, check out the Zojirushi SM-SA48 Stainless Steel Mug. This mug has a vacuum-insulated body and lid to keep drinks hot or cold for hours, plus it has a convenient carrying handle.
4. If you're looking for a large capacity mug, we love the Stanley Classic One Hand Vacuum Mug. It has an impressive 24-ounce capacity and is great for holding hot liquids for hours.
The Criteria – What We Looked For in the Best Travel Mugs
What factors did we consider when picking the best travel mugs? A lot of it comes down to personal preferences and what you're going to use your mug for, but there are some basic expectations that all good travel mugs should meet:
Good insulation – If you're going to be carrying around a full cup of coffee or tea all day, your coffee will need to stay at least warm if not hot until you're ready to drink it. The best travel mugs will have vacuum insulation (or the next-best thing) that keeps your coffee hot for hours on end.
The mug must be easy to open and use – Some travel mugs are lid-heavy, which makes them awkward to hold and use. Others just don't have the right kind of lid to be used as a sippy cup or straw. We only considered lids that were easy enough to use by anyone, no matter how young or old they are.
Easy to clean – Travel mugs should be able to go in the dishwasher without too much fuss with small parts that can get lost easily. You also shouldn't need special tools or products to clean them. The lids should be relatively easy to clean, too – it's annoying when you need a special brush to get into all the little grooves.
The mugs should be leak-proof and spill-resistant – No one wants coffee or tea leaking out of their travel mug, especially in a car. But not all leak-proof lids are created equal: Some come with additional features like valves that add resistance to spills and leaks, for instance. A good travel mug lid should be able to keep both liquids and air inside the mug.
We also wanted our mugs to have a double-wall construction (or at least some kind of thermal lining) so they could insulate the drink inside better than regular ceramic ones.If you're planning on getting a thermal or double-wall travel mug, consider the size of your vehicle's interior. Will the cup fit in your cup holder? If you have cupholders on the back of your seat, can you reach them from the driver's seat?
We also like mugs that are lightweight and easy to handle while driving: The last thing you want is to spill scalding coffee all over yourself while trying to drink it.
When we were testing all these different models, we made sure to take our time with each one, using them every day and over multiple days, so that we could test for leaks and durability. We also made sure that each model was able to fit a full 12 ounces of liquid, which is an important feature for those who like to drink their coffee on the go and not have to worry about constantly refilling.
While we can't account for every situation that might arise, we wanted to consider as many scenarios as possible through our testing regimen.
Here are some of the things we did.
We took all of the top-rated travel mugs out on the road and made sure they were able to keep beverages hot or cold for extended periods of time. While this was a factor in determining scores, it was also important to test each mug against different types of drinks and liquids, since everyone has particular preferences about what their beverage should be in order for them to enjoy it at its most optimal level.
We tested each mug for its ability to retain heat in the temperature range of 200-400 °F (93-204 °C). We wanted to see if a mug could keep beverages warm enough to be enjoyed but not so hot that they'd burn your mouth. To test this, we used an infrared thermometer to record the beverage temperature after 30 minutes in the car on a sunny day, then again at 45 minutes, and finally at 60 minutes.
We also poured the cold liquid into each mug and left it out in our air-conditioned lab overnight before testing it the next morning with an infrared thermometer.
We tested how effectively each travel mug handled condensation by leaving them out overnight with a sufficient amount of hot water or ice water to create condensation, then measuring the amount of liquid each mug held as well as how much had evaporated.
If you're into stylish, slick designs and a high-end feel, you may want to opt for one of the insulated stainless steel travel mugs we tested.
We love that these mugs keep your beverages hot without burning your hands (or the rest of you) and that they are not stained by liquids left in them for long periods of time. We also found that these models were easy to fill and use, with comfortable handles and simple lids.
To come up with our top picks we tested 10 top-rated stainless steel travel mugs from major brands like Zojirushi, Thermos, bkr , and Contigo, looking for durability, heat retention, versatility, and more.
All of our picks can keep your morning coffee warm for at least six hours (and in some cases all day) in a variety of situations. The mugs were put through the wringer under both high-end laboratory conditions and real-life scenarios.
Our picks also come with lids that fit tightly to help prevent spills when you're on the move. Our favorite mug is the Zojirushi SM-SA60 mug, which is designed for maximum heat retention (it kept our drinks hot longer than any other model we tested). It comes with a tight-fitting lid that minimizes leaks, even when the mug was full of hot liquid;
What to Look for When Buying One
When you're looking for a travel coffee mug, there are a few things you'll want to keep in mind. First, consider the size of the mug. You'll want something that's big enough to hold your favorite beverage, but not so big that it's cumbersome to carry around.
Second, think about insulation. You'll want a mug that will keep your drink hot (or cold) for hours.
Third, consider the material. Some mugs are made of glass or ceramic, while others are made of insulated stainless steel.
Lastly, think about style. There are mugs to fit every personality, so choose one that you'll be proud to show off. Once you've found the perfect travel coffee mug, it's time to put it to good use.
Here are a few ideas: – Fill it with your favorite coffee or tea and take it on your next road trip. – Use it as a replacement for your daily disposable cup at your local coffee shop. – Pack it with hot chocolate mix and mini marshmallows for a cozy winter treat. – Fill it with iced tea or lemonade and take it to the beach. – Use it as a water bottle on your next outdoor adventure. In fact, the possibilities and uses are almost endless.
How to Use It Safely
If you're looking for a new travel coffee mug, there are a few things you should keep in mind to make sure you're using it safely.
First, always make sure the mug is properly sealed before taking a sip. This will prevent spillage and help keep your drink hot.
Second, don't fill the mug all the way to the top; leave some room so that you can easily seal the lid without having to worry about your drink spilling.
Finally, be careful when microwaving or cleaning your mug; always follow the manufacturer's instructions to avoid damaging it.
Conclusion
A travel coffee mug is a must-have accessory for any coffee lover on the go. Not only does it keep your coffee hot (or cold) for hours, but it also saves you money by eliminating the need for disposable cups. Plus, it's earth-friendly! If you're not sure how to use a travel mug, simply fill it with your favorite coffee and enjoy.